Never create a website with WordPress if you want to be successful - Otherwise, it will destroy you
I started using WordPress ten years ago, and have created hundreds of sites with it. Six months ago, I re-created my own websites without WordPress. I did my own coding. I sweated blood in the process, but it is the best thing I've ever done. I'm going to tell you how WordPress can destroy you.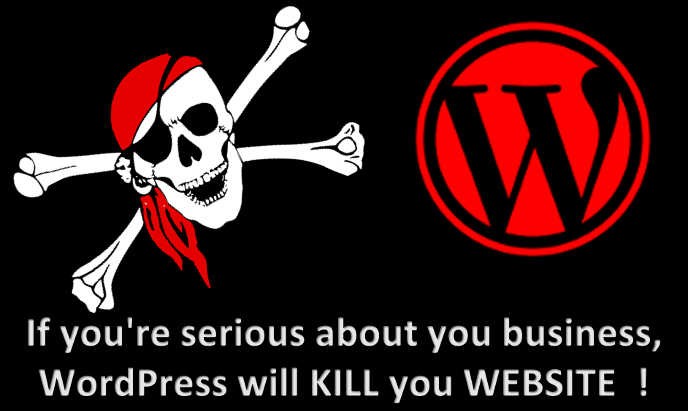 If creating a website is just a hobby for you, then I say, go with WordPress. It's easy to use. It does everything for you. You don't have to know any coding.
Some businesses need a website, just to maintain a online presence. In this case, a website is not necessarily the cornerstone of your business. Again, WordPress will work just fine.
However, if you are centering your entire business around your website, such as, selling exclusively online, then get as far away from WordPress as you can, as fast as you can.
Serious Internet Marketers should know some coding
Creating a website that is the center of your business, even with WordPress, is virtually impossible if you don't know at least a little coding. It's more important that you understand how simple coding works, rather than knowing how to do it.
Understanding coding is not enough. You also must understand file, and database structure.
If you are serious about your website, you want to know everything that is going on witihin those files and databases. With WordPress, this is extremely difficult, bordering on impossible. In my experiences, everytime I figured out the file structure, other problems emerged to make the situation much worse.
I learned much of the coding by fixing the many problems in WordPress, Then I figured, if I can do this, I can code my entire website myself. This is exactly what I did.
I'm going to show you 6 reasons why WordPress will destroy your business. Then, I'm going to tell you how you can get started, if you're interested in creating a successful website and business.
6 reasons why you should stop using WordPress
? WordPress sites are very slow This is very bad for your SEO, and your business. Google will penalize you if your website doesn't load fast. They will not even put you on their last page, much less, their first. Even if you are lucky enough to get a few visitors, they're not going to hang around very long if it takes forever to load your website.
OUCH !
Each WordPress installation has hundreds of files. Most are files you don't even need.
And don't forget about the themes you choose for you site. They consist of many file also. Again, useless stuff you don't need, but files that slow your website down.
And then there are the plugins. Adding plugins to your website is the worst thing you can do. They will slow your website even more. Consider this:
For every plugin, there is a code that will do exactly what the pluging will do. And you site will NOT slow down.
Finally, since I've converted my websites to my own coding, they have been lightening fast, and most of my visitors have noticed it.
? Google indexes url's that are useless When my website is indexed, I want Google to index the pages that I want people to see.
Google has an indexing budget. When they index a certain number of url's, they stop. With a WordPress site, most of the url's that are indexed have been created by the platform. They are of no value to anyone who sees them, and certainly, of no value to you. I only want the url's I create to be indexed.
This is exactly why WordPress sites very seldom show up in a Google Search. By the time Google indexes the superficial url's created by WordPress, the budget has run out. Google will not index the more important pages that contain your content.
NOT GOOD !
I've often thought that WordPress is reallly nothing but a scam. I didn't want to believe this, but, when I saw the crawl errors on my websites, I couldn't help thinking this is the case. And believe me, fixing 500 crawl errors is no fun. And this is all compliments of WordPress.
? You don't know what's happening in your website Serious website owners must have knowledge of the file structure, and the database structure. Before converting my sites, I knew there was a database, but not how it was used.
As I re-constructed my websites, I learned a lot about mysql databases, and how they work with the websites. I thought, "Why didn't I know this before?" I really started to resent WordPress for this. It's as if they don't want you to know what's going on.
? WordPress sites are very easy to hack WordPress is a hacker's dream. It's the easiest platform in the world to hack. Of course, there are plugins that claim to prevent this, but they don't work. And by this time, you know I don't like plugins.
What I'm implying is, when solving problems in WordPress, you end up having more problems. It's a vicious circle.
When a WordPress site is hacked, it can be restored, but it will take you a whole day to do this. When doing your own coding, your website has a lesser chance of being hacked. And even if it is, all you have to do is delete the files on the server, and re-copy them from your backup folder. This will take about 2 minutes.
Everyone knows how to get into a WordPress dashboard, and expert hackers know how to get your password. The url to log in is the same for all sites. Of course, there's a way to change it, but this can get a little complicated. This is one of the things that motivated me to do my own coding. I thought, "If I can figure all of this out, I can do my own coding."
? WordPress sites are too complicated The platform is for people who want the software to do everything for them. In other words, you don't have to know coding. But this is BS.
Before making the decision to rid myself of WordPress, I went through the file structure on one of my sites, and didn't know what to think. There were files I never knew existed, and didn't know what they were for.
If this was complicated to me, think of how it was to Google, the guys that crawl the sites. Again, this is another example of why WordPress is very bad for SEO.
Google actually indexed these useless files, instead of my content.
When doing your own coding, you create files that you know you have, and need. You add the url's to your sitemap that you want Google to index. They index what you want people to see, instead of some junk url's that were created by a theme or plugin.
? WordPress is for amateurs There's a website, WordPress Theme Search, that will tell you the theme a website is using. If you type in my website url on this page, you will see the following display:

That's how you can see if a website is using Wordpress.
If you run this search on some of the successful websites, such as Mashable, Oracle, or Microsoft, you will see that they do not use it.
Successful people, and people who aspire to be successful wouldn't be caught dead using WordPress.
Here's something you will find amusing. It will also convince you that WordPress is a bunch of garbage. I did the same search on WordPress Theme Search for the most successful website in the world, and this is what it showed:

Where to go from here
I have given you six reasons you should get away from WordPress. There are many other reasons, but these are earth shaking enough.
If you are enlightened by this article, and want to make a change, but don't know what to do next, I can help you.
The most difficult part of doing your own coding is the blog system. Fortunately, I have spent the last year developing a blog system with php and mysql database. I sweated blood doing this, but it was worth it.
I have created all the files needed. All you will have to do is add your site name to the various files, your own images and your database information. I've even created the database for you.
I'm going to offer it to all of the people who visit my website. It will be ready in about a week. The program will consist of the files you can copy to your computer, the actual database, which you can copy and rename if you want, and videos that explain what each file does. This way, you will know about the coding, and how it works.
You don't have to know coding by heart. There are excellent references that will help you with the coding. It is more important to understand the coding.
Once you get into this, you will learn fast, and discover it is very simple.
If you are serious about creating a successful website, you will want to see this.
Get away from WordPress. It will destroy your business. Do your own coding. But you will not even have to so this because I have done it for you.
I hope you will visit us again.