There is only one way to survive the economic crisis from COVID-19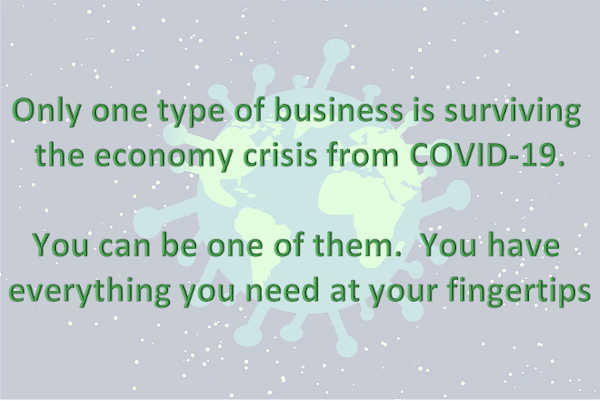 Think about it. Businesses are closing because the authorities want us to keep something known as "Social Distancing". Before COVID-19, most of us had never heard of this term. Now, it is the most important thing in people's lives.
Businesses that do not have to worry about Social Distancing
Suppose you had to do business with someone face to face who could infect you with a deadly disease. And further, suppose money had to be exchanged between the two of you. Even without a pandemic, money is still an unsafe commodity because you don't know who's hands it has been in. If these conditions are true, would you do business with that person? I wouldn't!
Suppose there was a business where Social Distancing didn't matter. Would you do business with that person?
The answer to this question is an obvious, YES, when I say, the only business owners keeping their heads above water during this crisis are the ones who are operating an online business.
Think about it. Right in front of these guys are two very small pieces of equipment. One is a keyboard, and the other is a mouse. These are the only two things they will have to touch. That presents no problem, because they know, beyond any doubt, who has touched them, and they are not infected with the Corona Virus.

All you have been hearing from the media is, "Stay safe". What can be safer than this?
Why online businesses have the advantage during the COVID-19 crisis
They don't need a designated place to work. If the authorities say, "Stay home", no problem. These guys are working from home, and still making money. And people are still buying some of the things they need online. After all, what else can people do besides browse the internet?
They don't have to go into work. This means, they don't have to come into contact with anyone. They can work anytime they want, anywhere they want. If they have to stay home, it stands to reason they want to work from home.
When they touch that keyboard and mouse, they are connected with the entire planet. And they don't run the risk of being touched by anyone, or breathed on by anyone.
They don't have to be in a certain place, at a certain time. The only place they have to be is, home, where the authorities want them to be.
They don't have to talk to people, or deal with people, one-on-one.
Now I ask, what can be easier than this? There are many people who are making a very comfortable living doing this, even now, when the world is in such turmoil. All they are doing is touching a keyboard and mouse with their fingertips. Some of these people are still making millions each year. Others are making millions each month. It's all in the way they do business, without having to come into contact with anyone.
How to get started
If you have a computer, and an internet connection, you have two of the four things you need. You will need an idea. Finally, you will need the knowledge to do this.
If a few days, I'm going to release our new publication, Survive the Economic Impact of the Corona Virus.
This is our mission - to help everyone who is suffering from the economic impact of COVID-19. We are not going to make any profit for this publication. The cost will be less that the cost of a hot dog and bag of potato chips. The only reason for this is for us to cover our costs of distributing this publication.
We are very committed to helping as many people as possible get over this economic crisis. This is Sunday, April 5. The publication will be out by Monday, Tuesday, April 6, and hopefully earlier.
We want to do our part to help everyone.
Please check back with us. You are going to like what you see. And we are going to do whatever it takes to help you get through this economic crisis.